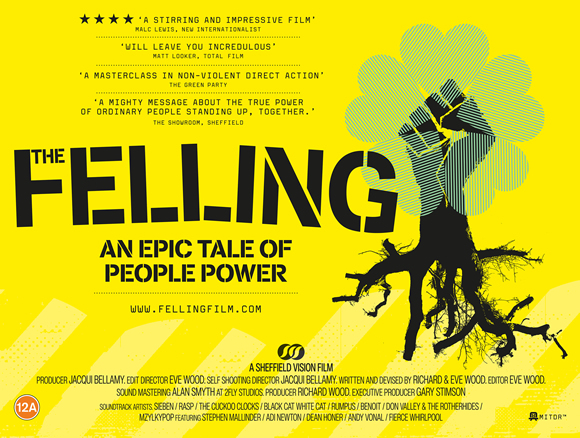 The Felling - an epic tale of people power
GO TO THE FELLING FILM WEBSITE FOR MORE ABOUT
SHEFFIELD VISION'S LATEST FEATURE DOCUMENTARY RELEASE

"Blood-boiling"
The Guardian
" By capturing the struggle in Sheffield, The Felling film acts as a rallying cry to tree campaigners and nature protectors all around the country." Paul Powlesland, Lawyers For Nature
Sheffield citizens from 18-90 years old rise up and put their bodies on the line to stop the destruction of their city's healthy street trees and help save the Planet from climate Armageddon.
A true David-and-Goliath story about how a community of determined residents in one of Europe's greenest cities battled with a powerful city council, a giant multinational corporation and the police to stop the destruction of thousands of healthy street trees as part of a massive £2.2 billion private contract to maintain their city's highways.
When an injunction threatens peaceful protesters with bankruptcy and imprisonment, ordinary citizens are forced to ask themselves the crucial question:
How far am I prepared to go to save a tree?
Filmed over 18 months and edited from 500 hours of footage, The Felling film is a first-hand account of an extraordinary, shocking and often farcical situation that spiralled out of control on the tree-lined suburban streets of Sheffield.
Documentary film running time: 112 mins