Sheffield Vision Ltd was formed in 2001 by Eve Wood and her husband Richard Wood. Their first self-financed project was the critically acclaimed film 'Made In Sheffield' which Eve directed. Since then it has taken on a global life of its own.
Eve's photo below, shot by Richard, was taken back in 2005 when Gary Hustwit (who has since successfully directed Helvetica and Objectified) kindly put us up in his Manhatten apartment for the launch of Made In Sheffield in America on his Plexifilm label)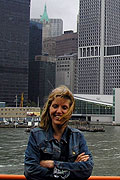 The Sheffield Vision website was set up also in 2001 as a portal for links to/ information about the bands featured in the made In Sheffield film and also a place for people to buy the DVD online. Back then, not many of the bands had a web presence and it was not very common for people to shop online. It was very exciting as independent filmmakers to develop this online presence, an aspect to the process of filmmaking that was very new to filmmakers generally. For people to visit our DIY constructed site, find out more about the bands and shop in our own little shop was amazing. Since then we have added more related books and posters to the shop, like Martin Lilleker's comprehensive work on the same period that Made In Sheffield covers. This gives those who are interested in the Sheffield Music Scene a much more comprehensive experience than our original 52 minute film could do.
Since Made In Sheffield, we have made 4 more films (See our film section for more detail) that are in the shop to buy including our most recent epic project, the sequel to Made In Sheffield, called The Beat Is The Law which we have been working on and off for 6 years now. This project is now complete and available to watch from this site right now Online On Demand
Sheffield Vision Ltd and its accompanying website/shop celebrates 10 years this year 2011. We are proud of this achievement and blown away by the fact that our products have been bought by people from all 4 corners of the globe.
Drop us a line if you have any projects you would like us to be involved with at
eve@sheffieldvision.com

Thanks for your support
Eve and Richard Wood
Directors of Sheffield Vision Ltd